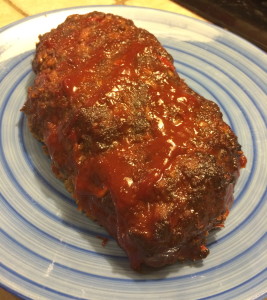 At Disney's Hollywood Studios, there is a restaurant call 50's Prime Time Café.  They server the classic American comfort food in a '50s kitsch looking restaurant including vinyl chair (yes the ones with sparkles in them) in the waiting room and Formica tables in the dinning area.
The food is good and Cousin Ann's Traditional Meatloaf is one of the items on the menu.
Meatloaf is a common dinner meal in our house and for the longest time I've just used McCormick's meatloaf seasoning, which isn't bad. Of course I use fresh veggies in it, but last year, Jennifer and I found this recipe on allears.net which claims to be the recipe from Prime Time Café.
I don't know if it came from there or not, but it has turned out to be our meatloaf recipe of choice, sorry McCormick's!
I've made a few modifications to it, one that my mom shared with me just last week.  She used Oats instead of breadcrumbs in our meatloaf that I ate growing up. I figured they had to make the meatloaf healthier right (at least a little?)
Ingredients:
2 lb ground chuck (80/20) beef
1 lb ground pork (we use Jimmy Dean low fat sausage which is a little less than 1lb)
4 eggs
1 cup seasoned bread crumbs (we use Oats)
½ cup diced onions
1/4 cup diced green peppers
1/4 cup diced red peppers
2 Tbsp worcestershire sauce
Cracked black pepper to taste
Kosher salt to taste
½ cup Meatloaf Glaze (recipe below)
Directions:
Dice peppers and onions (we use a food processor) and set aside for later use. Combine meats and seasonings. Add vegetables. Place meat mixture in a loaf shape on a cookie sheet with tin foil that has been sprayed or oiled.
Bake at 350º F oven for 1 hour (internal temp 155º).
Brush meatloaf with meatloaf glaze. Bake another 10 minutes. Let meatloaf set 10 minutes, cut loaf and serve.
Meatloaf Glaze
Ingredients:
1 cup ketchup
2 Tbsp brown sugar
2 Tsp Dijon mustard
1 Tsp worcestershire sauce
Tips: I recommend making this a day ahead so it can just be warmed up for supper the following night. I think the flavors are better the next day.  You can also make the meatloaf put it in the refrigerator (covered of course) and cook it the next day. If you do this, let it come to room temperature before cooking.