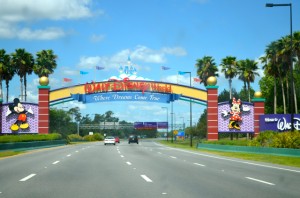 By 9 am on Monday, we were headed to Walt Disney World where we spend 5 full days, enjoying Magic Kingdom, Epcot, Animal Kingdom, Typhoon Lagoon, Hollywood Studios and Bay Lake Tower at Disney's Contemporary Resort's, which was our nice home durning our stay.
Once we were checked in, we grabbed lunch at the Contemporary's Contempo Café which is their "Quick Service" restaurant.  It isn't a normal "quick service experience, from ordering on touch-screen kiosks, to the actual menu items.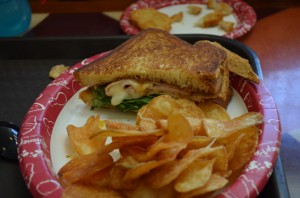 Jennifer and I split a hot turkey sandwich that was topped with Brie, apple butter, apples (tasted like Granny Smith),  and arugula on Challah bread with home made potato chips.  We had another one later in the week it was so good!
Once at Magic Kingdom, it was time for Caleb to get his first haircut. He did really well, despite the "what do you think you are going to do with those" looks he gave the lady throughout the haircut.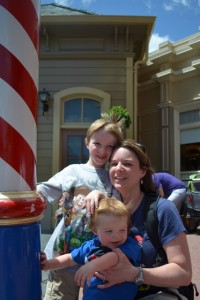 We also found that the barber shop was a great place to watch the afternoon parade. It starts right by the barber shop.
After the parade, we road the train to FantasyLand (which is still under expansion construction, but Dumbo was now open. We road it and then Caden and I rode his first roller coaster, The Barnstormer (Goofy's Roller coaster).  Jennifer and Caleb headed to get Fastpasses for Space Mountain.  Caden LOVED the roller coaster, and Jennifer returned with FastPasses for 8:40 pm.  We were planning to be back at the room by then, but we figured we would keep them and see what happened.
The Haunted Mansion was next, Caleb was taking a power nap so Jennifer and Caden rode it while Neal hung out with Caleb.  Pirates of the Caribbean was next, so maybe it wasn't a power nap, Caleb was still asleep, so first Neal rode with Caden, then Jennifer rode with Caden (obviously he liked it to ride it twice!)
We ate at Liberty Tavern for supper and if you have never eaten there, just do it.  Supper is family style, no menu to order from, we had roasted turkey, carved beef, mashed potatoes, green beans, to name just a few items. It was really good.
Other rides we rode at Magic Kingdom (on Monday and on Friday evening) included: Snow White (for the last time, it will be replaced ins 2014 with the "Seven Dwarf Mining Train,"  Winnie the Pooh (we had a Fastpass for this ride, but Caden wanted to stand in line after seeing the interactive line (we didn't though), It's a Small World (twice) and Peter Pan (only once we tried to ride it a second time, but it was too late and the line was too long. It is our favorite of the "kiddie" rides).
On Monday night, Caden did indeed ride Space Mountain… TWICE!  I rode with him the first time, he rode in the seat in front of me and when we took off, he uncontrollably giggled, then laughed, then screamed with laughter. These three reactions continued through the entire ride!  When we got off, he started skipping (at 8:45 at night) and said, "Daddy I want to ride it again!"  So he did, with Jennifer.
After Space Mountain we headed to the room. The fireworks were going on as we left the park, so we stood outside the park for a few minutes and watched them before walking back to Bay Lake Tower.
Here are a few photos from taken from our window and balcony:
More Photos:
.