We started the morning with a Supercalifragilistic breakfast at 1900 Park Fare…
located in the Grand Floridian as you might have guested, Mary Poppins was there…
along with Alice in Wonderland, The Mad Hatter…
Tigger and Winnie the Pooh.
There is also Big Bertha, a turn-of-the-century, fancifully designed organ from France that we heard play right  before we left.
We really like this breakfast, Jennifer's favorite is strawberry soup, the boys love the mini mickey waffles, I enjoyed lobster eggs Benedict. I even spotted brownies on the buffet. After breakfast, we rode the monorail back to the Contemporary and mom left for the airport, headed to Nashville (to visit her other grandchild) and we headed to Epcot where we meet up with the Greers and headed to Test Track, then Mission Space!
While Trey, Avery, Carley, Caden and myself were riding Test Track, Jennifer, Caleb, Stephanie and Lily went to ride Maelstorm in Norway (we got a rider swaps so Stephanie and the girls and Caden and Jennifer could ride later in the day).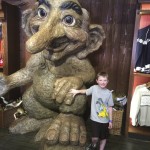 The Greers had a lunch reservation at Akershus Royal Banquet Hall (more princess stuff) so Caden and I rode Maelstorm, then caught up with Jennifer and Caleb for a quick service lunch at Kringla Bakeri og Cafe.  This quick service restaurant is one of my new favorites.  Normally at a quick service restaurant, the meal comes an entree and dessert but many times we substitute one of the desserts for a side item not included with the entree.  The sides are included as part of the meal and are very generous. I was told… "In Norway, everyone gets pastries!"  (sorry, no photos of the pastries, but they were good!)
After lunch, we were waiting on the Greers to finish up, so we took some photos around Norway and made friends with strangers also waiting around…
Caleb had a conversation with someone else which is what he is doing in the picture to the right. We don't know what he was explaining, but it looked like it was important, ha!
After the Greers were done, we headed back over to Test Track and Mission Space to let the girls ride with the kids while Trey and I kept Lily and Caleb. It was good opportunity to check out the cars in the show room and let Caleb and Lily have some good time together. It seems they couldn't decide who was going to drive.
After the girls (and Caden) were finished with Mission Space and Test Track, we stopped for a brief cool off at the Coke Station, where the kids walk through mist.
Then caught the end of the JAMMitors (trash can drummer's show). We had seen this show 10 years ago with Trey and Stephanie and Trey remembered the guy in the green hat. He talked to him afterwards and he said he had been with the group since it started, so it was indeed him.
We have a Disney Visa card which allows you to get one free 5×7 (each day) you are in Epcot. So we headed over to Innovations took a few photos with Mickey and Pluto. While we only get one 5×7, they take a lot of photos, so with the PhotoPass (now called MemoryMaker) we get them all.
After we were done with our "photo shoot" we all hopped onto the monorail and headed back to Bay Lake Tower for some down time. The Greers joined us which was a lot of fun. The kids watched "classic" Disney cartoons and the "adults" got a chance to visit… We headed back to Epcot later that evening to ride Space Ship Earth, we ate supper in Morocco at the Tangierine Cafe (we like to try different food when we are on vacation. It was good, but I don't know if I would eat there again).
After supper it was less than 20 minutes until illuminations (the firework show) started so we started looking for a place to watch them. We quickly found a great spot without a lot of people, so we quickly claimed it.  It was between Morocco (18) on the map below and France.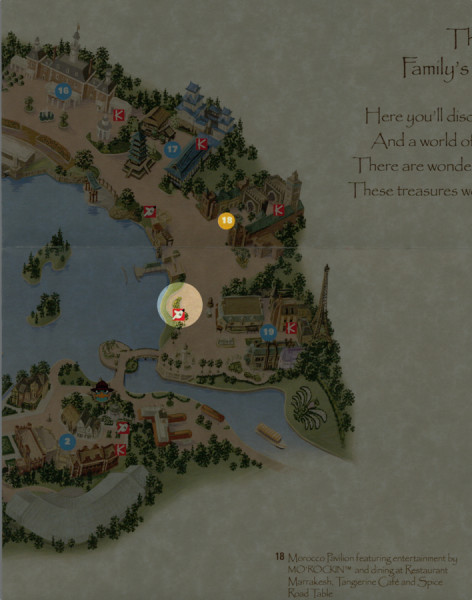 After the fireworks we headed to the resorts, Day 4, Hollywood Studios!
Comments
comments