Saturday Caden and I made a quick trip to Sam's Club to restock the freezer at our house.  Caleb and Jennifer had a birthday party to go to, so it was some good bonding time for Caden and myself.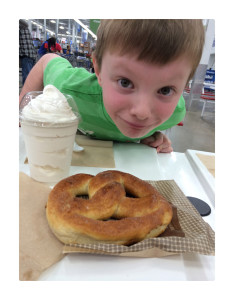 We have this tradition when we go to Sam's, once we are done shopping, we split an ice cream cup (ok it is really frozen yogurt).
Of course, if there are four of us, we split 2 frozen yogurts.  But this trip we finished up about lunch time, so I felt we needed something besides just frozen yogurt.  A cinnamon  pretzel sounded good to me and Caden loves everything that has cinnamon in it, so I knew he would like it (by the photo you can tell that he did and of course we sent this photo to Jennifer and Caleb right away)!
Caden asked as we were getting off I-20 at the Sam's exit what we were doing after we were done at Sam's. I ask him what he wanted to do and he replied, "Go to Toy-R-Us?"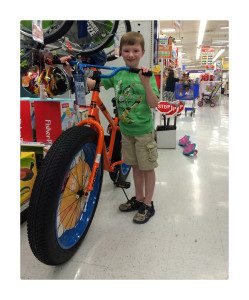 I told him we could, but we would just be "looking." He said that was fine.
Caden has outgrown his second bike and we are planning to buy him a new one very soon, so I made it a point to size them up while I had him with me.
He found one he really liked, but he'll have to grow a bit more before he could ride it or even reach the seat!
He said, "Daddy this bike can go anywhere!" and I would have to agree with these tires he is probably right.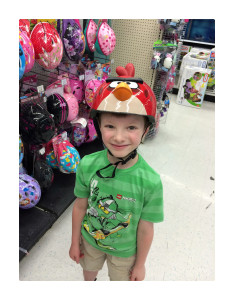 Of course, safety first, so we checked out the helmets as well. He is a major Angry Birds fan and had no problem spotting an Angry Birds helmet that even has sound effects.
We did manage to get out of Toys-R-Us without spending any money (and hour later), but it was fun.  I would have to admit that Caden's dad has as much fun in toy stores as he does.
Comments
comments