By that title you may have guessed it!?? Yep! Caden starred in his first drama production as baby Jesus. Ok, so it was a really small role. Carried in during one song, to the front, entertained by lots of people for the rest of that song and the next one, and then out he went.
The funny part… you know there always is one with "us!" We got to church that night at 5:30 p.m. and were asked then if he could be "borrowed." The couple that was playing Mary and Joseph had kept him in extended session (during "big" church that morning) and are friends of ours, so we had no problem letting him play the part.
But since this was last minute, we hadn't fed him, and he was expecting a bottle about the time he was going to play his part. He doesn't take pacifiers so if he was ready for the bottle, he was going to be ready for it, and would let us all know.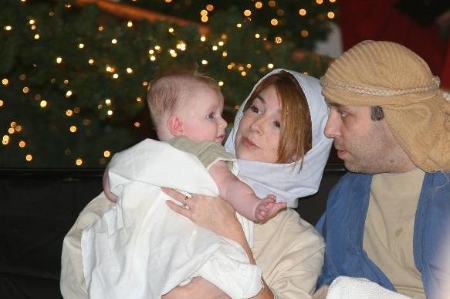 As you would expect from a professional, though, he put his hunger aside, played the role perfectly and even fell asleep during the second song (which was NOT a lullaby, what does that say about your singing Joe Brown, you put him right to sleep!?)
Luckily I as able to take a few picture with "Mary's" camera, so there are a few here: http://nealbreeding.com/photos/131/
Comments
comments